Nursing Careers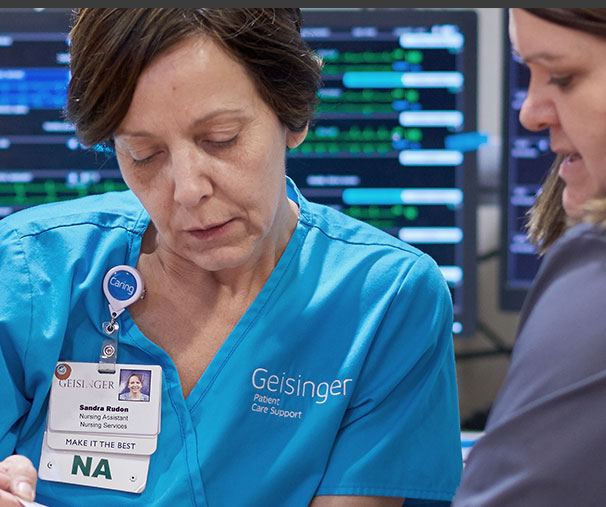 Key Roles
There are various unlicensed and technical roles that are vital to the Geisinger care team including:
Nursing Assistants and Surgical Technicians are the most popular of many opportunities.
Nursing Assistants without experience are offered education in the Nursing Assistant Residency program — a two-week course offered in collaboration with local community colleges (Central Susquehanna Intermediate Unit, Harrisburg Area Community College, and Lackawanna College).
Technicians in various fields — radiology, surgery, cardiology — have many opportunities to expand skills and build rewarding careers.
Benefits & Support
Tuition Assistance
Through our tuition reimbursement program, eligible employees can now receive up to $3,000 per year toward an undergraduate degree and up to $5,000 per year toward a graduate-level degree. Active full-time and part-time employees (0.5 FTE or greater) are eligible for tuition reimbursement. Employees must be in active status on the first day of classes, and at the time of reimbursement payout.
Scholarships
Scholarships are available to support nurses (both RNs and LPNs) returning to college for advanced nursing degrees. Scholarships are offered at various times throughout the year to supplement the Tuition Reimbursement Benefit. We are thankful to the many generous scholarship donors that support nursing education.

Jillian Schaeffer,

Nurse Assistant

"I've been surprised by the community our floor has even though we can all work different days and different shifts. We celebrate successes and life events for employees and patients — that's what makes it a fun place to work!"