Build a Career with Lasting Impact
We provide veterans the tools to succeed in pursuing their personal and professional goals – from tailored career guidance to an active veteran community, Geisinger is invested in veterans' success. Here are just a few of the ways we support veteran candidates and employees across the organization:
Personalized Career Guidance
From informational interviews, career counseling, resume advice, feedback throughout the application and hiring process, and opportunities to network with veteran employees with established Geisinger careers, our team will assist you in translating your military experience in a way that employers can understand, ensuring that your accomplishments don't go unnoticed. We provide one-on-one support to veterans throughout the application process and work with our recruiters and hiring managers to translate your unique skills and experience into a role at Geisinger.
VetNet
One of the ways we go above and beyond to support our veteran community is through VetNet, our employee resource group and support network for Geisinger service members, veterans and their families. This group forms collaborative relationships with local veteran organizations, supports veteran patients, fosters strong employee bonds within the Geisinger family and helps in recruiting and retaining the best military talent.
Giving Veterans a Voice
Giving veterans throughout the organization a voice is another essential piece in building a stronger veteran community at Geisinger. From Veteran Town Hall events to Memorial and Veteran's Day recognition, veterans from across the health system are given a platform to share ideas about how we can improve veteran employee engagement and address issues veteran employees face.
Reserves or National Guard Benefits
If you continue to serve your nation and community in the Reserves or National Guard, Geisinger will support you. Here's how:
Paid Military Leave
Pay differential for military leave over 90 days
Geisinger pays for health, dental, vision, life, long- and short-term disability and Employee Assistance Program coverage for up to two years of military leave.
Employer 401(k) contributions
Our Veteran Community – Unique Perspectives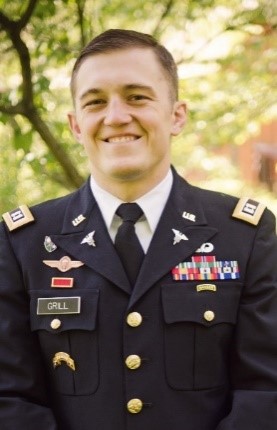 To help grow our Veteran community at Geisinger, we recently welcomed U.S. Army Veteran Chris Grill to our team as Program Manager, Military and Veteran Affairs. Following his service, Chris felt it was important to find a purpose-driven organization where he could continue to serve members of his community. The mission and values Chris developed in the military aligned with Geisinger's, making it a natural fit.
"When I left the Army, it was important for me to find an organization where I could continue to serve the members of my community. Geisinger's entire purpose is caring for our patients and our members. No matter where you work in the organization, every day you are caring for our friends and neighbors."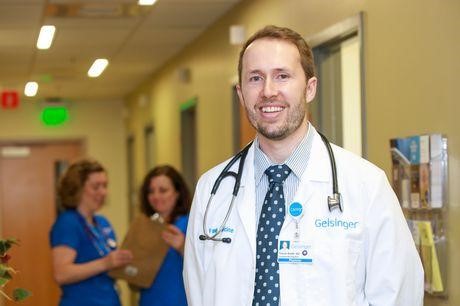 "As a family physician in the U.S. Air Force, I was trained to be a jack-of-all-trades," says Dr. Trevor Smith. After leaving active-duty service in 2018, Dr. Smith was looking to practice family medicine in a healthcare system that provided the same commitment to service and care as the military. He found that at Geisinger. "Geisinger provided the high standards and stability of the military, many benefits to support my family and the chance to come back home — with the added benefit of practicing medicine at a leading healthcare system."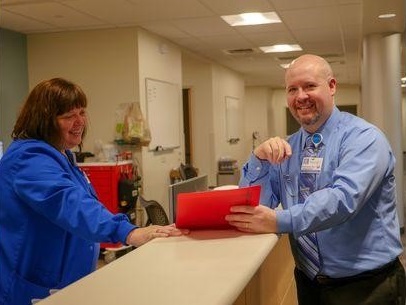 "Geisinger is wonderful to veterans from an employment standpoint," says Bret Stemrich, Chief Advanced Practitioner (AP) of Community Medicine at Geisinger's Kingston Clinic, Army veteran and current member of the National Guard. To veterans or active-duty military members interested in a career at Geisinger, Bret adds, "I have never once felt that my service has gotten in the way of my work here. I have the time off necessary to fulfill my obligations, and when I was activated in 2017, I received the support I needed and didn't have to worry about my patients."
Join Our Family
As we look to shape the future of health, we will continue to enhance our veteran employment programs by creating veteran-specific career path and training programs to help them gain experiences and certifications they need to work in the civilian sector. From physicians, nurses and EMTs, to human resources, information technology and finance, you will find veterans in every position and every corner of Geisinger. "The beauty of an organization like Geisinger is it's just like the military," says Chris Grill. "We are not all doctors and nurses, but every position is needed to care for our community's health and support the organization."
Continue your career in the service of caring at Geisinger and join our veteran community today.